Help Us Give the Sanchez Family a New Home!
This January, we'll be back in Mexico for our annual winter build (although a few weeks late).  We'll be building for Cristobal Sanchez, his wife Reyna de Jesus and their two kids Gabriel and Danna. This family was supposed to receive a home last year, but because of zoning issues in the neighborhood, it was delayed. They've remained incredibly grateful and patient for anything we can do. Finally, we'll be able to get them into the new home they deserve. But only with your help! As always, every dollar we receive will go directly into this project. Any amount helps!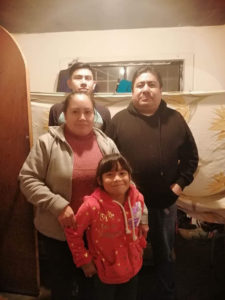 Mexico Build – January 2020
A Huge Thanks To Those Who Have Supported This Project!
Two More Homes Built!
Thanks our amazing donors and incredibly hardworking volunteers, the Sachnez family is now in a safe, new home. A special shout out to our Volunteer Builders: Dave Kinnoin, Victor Campos, Rosemary Godinez, Alex Godinez, Graciela Godinez, Bob Morrish, and Alan Erlich.